Magician Aylesbury? Unquestionably memorable magic!
So, what event in Aylesbury are you holding?
Tap one to find out more!
Magician Aylesbury… I hear you say? So you're organising your wedding or you're in charge of your partners birthday? Maybe your boss has asked you to arrange companies work party?
You've decided it would be a great idea to hire a modern magician to break the ice and perform miracles. Because you want to make sure that your guests minds are blown!
First of all, lucky for you Lewis is a professional Aylesbury magician and has performed at thousands of different events. Mainly events across the UK and abroad, as well as regularly performing magic in Aylesbury too. Hartwell House and Waddesdon Manor are just two of the venues that Lewis performs in.
Unlike most Aylesbury magicians, Lewis is certainly not a one man band. Therefore he works with a small team under the VAT registered, limited company – Fine Entertainments Ltd.
Lewis has over 10 years experience within the industry and he is a member of the world-famous 'Magic Circle'. Finally you'll be pleased to know he is DBS checked & insured for your piece of mind.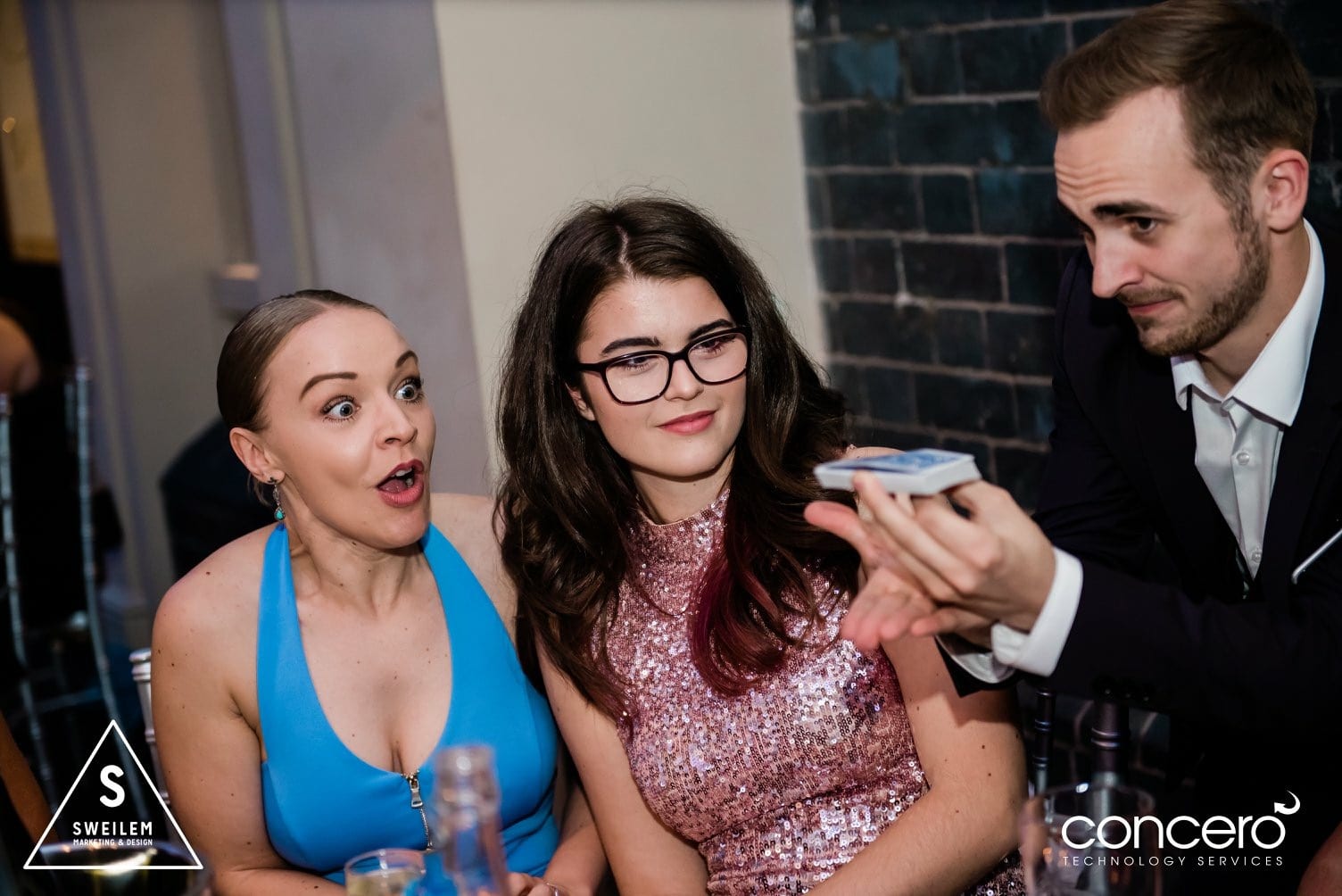 Fantastic Fantastic. I am not sure what I enjoyed more watching the magic or seeing peoples faces once the tricks had been performed. Would definitely recommend.

Lewis came to my Mum's 90th birthday… Lewis came to my Mum's 90th birthday celebration and very adeptly entertained a large range of age groups. He was impressive in helping to break the ice, and puzzle all who watched his tricks. He was very professional and I wouldn't hesitate to recommend him to anyone looking for entertainment. It worked very well in a restaurant too, as his presence didn't seem to interfere with other guests.Thanks Lewis, you were great!

Amazing! Lewis came and performed close up magic for my 40th birthday party last night. He was amazing, he made people laugh and entertained even the hardest "non believers" I wouldnt hesitate to recommend him.or hire him again. I've had many messages from friends and family today saying how amazing he was. Perfect !

Danielle Marie McDougall Stanborough

1/26/2020

Lewis you were Fantastic Lewis you were Fantastic, thank you so much for coming to our work Christmas Party and entertaining everyone. We were all very impressed. We will definitely be booking you again for future parties. Thanks again and we can't wait to see you again soon. RegardsLaura KingzettPA to CEOCS Ellis Group Limited

Fantastic entertainment at our wedding! We had Lewis perform at our wedding during our drinks reception and wedding breakfast, and he was absolutely fantastic. There were no cheesy tricks, and some tricks even left us lost for words. Lewis got all of our guests talking to each other and the atmosphere was just perfect. We couldn't be more happier! Thank you so much Lewis!Adam & Ali

Lewis entertained our guests at our Las Vegas 'Rat Pack' evening recently. Amazing close up magic and a lovely, lovely guy. Funny, entertaining and a pleasure to work with - our guests loved him, and we would most definitely hire him again! Highly recommended.

Amazing! I 1st saw lewis at a wedding fair and normally I dont entertain magic acts as I thought it might be cheesy but after he totally confused me with tricks I've never seen before we took a gamble and booked him for our wedding on july 25th. I'm sooo glad I did ! All my guests keep telling me how good he was! So definitely a great ice breaker and great talking peice for your guests ! 🙂 nothing cheesy at all 100% proffesional.

Magic at its best . Amazing We booked lewis for our wedding on the 3rd of august after previously seeing his performance at Easter. WOW we were certainly not disappointed, Lewis is amazing and was the talk of the whole day , every guest commented on how he just blew there minds .If your having an event book lewis you won't regret it .

Wedding day booking We booked Lewis for our wedding day on 15th June. It was a last minute booking but I'm so glad that we did it. He is so skilled and some of his tricks have still got people talking about it now. He certainly left us scratching our heads and in total amazement. If you're thinking of booking a magician look no further, you will certainly not regret your decision.Thank you for helping to make our day so special Lewis. Scott and Grace

Make a booking! I met Lewis at a wedding Fayre a year before my wedding & as soon as I watched him perform, there was no doubt that I would be booking him. His magic tricks are phenomenal!Our guests at the wedding were absolutely blown away & said he was the best magician they had seen. Lewis provided an amazing variety of magic & he contributed to what was a wonderful day. I wouldn't hesitate to book Lewis again or recommend him to anyone!

Miss Julie Goldsmith

5/10/2019
Lewis Joss is an expert ice-breaker, professional party starter and award-winning entertainer. In addition to this, he uses magic as a tool to enlighten and captivate his audiences.
Performing magic at the early age of 6, after being taught a few tricks from his Grandfather, Lewis consequently became very interested in magic and used to ask for magic box sets for Christmas. Because of this, he then began performing magic to family and friends.
After that, at the age of 10, Lewis joined The Magic Circle's Youth Initiative, The Young Magicians Club and at the age of 18 immediately became a Member of The Magic Circle.
Many years later, from experience of hundreds of shows, Lewis now performs all around the world on cruise ships, works with companies to promote their brands and performs for celebrities at private functions.
Lewis has worked on T.V productions with the late Paul Daniels & Debbie McGee and has worked on productions for Channel 5 & Talkback Thames.
Hire an Aylesbury magician to make your event memorable!